KHOU's Deborah Duncan, the host of Great Day Houston as well as the emcee for Houston SPCA's 2022 Howl-O-Ween Ball, is an animal lover like no other. We are so grateful for the chance to have an uninterrupted hour on her show to talk with her about our mission and some of our recent highlights and transformations!
Every segment touched on an aspect of our work, from incredible animal transformations to equine rescue and rehabilitation. Chief Adam Reynolds and Dr. Roberta Westbrook shared their wealth of experience and expertise about what happens from the time we see an animal in the field to when they're in the arms of their new family.
Catahoula mix Sharky saw a meteoric rise to fame this past fall when he was discovered in a parking lot abandoned with a hair elastic stretched so tight around his muzzle, bone was visible.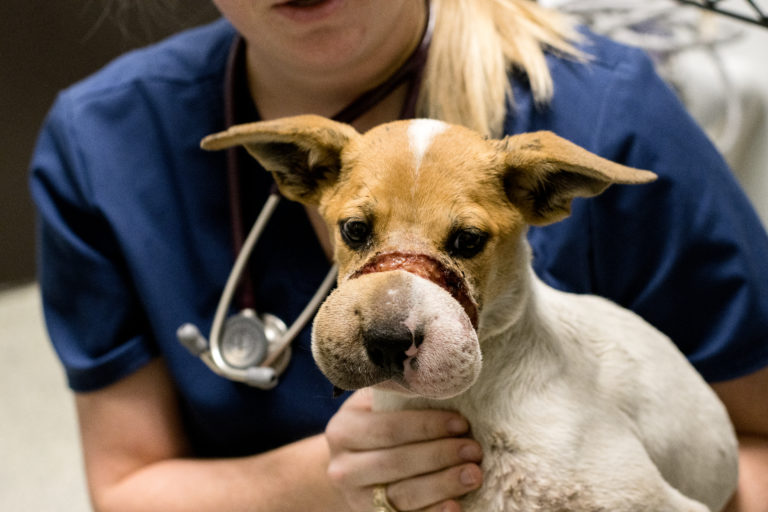 After careful treatment from our staff and lots of love in his foster home, he's now living the good life with his new dad Kevin.
The inseparable pair joined us on-air to talk about Sharky, now Creasy, and his amazing story. Without the work of our staff and the love of a new family, Sharky might never know the loving touch of people who care about him.
Animals like Orion, Gummi Bear, and many others are unrecognizable after the TLC they receive at Houston SPCA.
Chief Investigator Adam Reynolds talks about some unforgettable moments in the past year. Sometimes our team is surprised by what they find in the field, like finding a cow emerging from a second-story window.
Anyone who is familiar with horses knows what majestic and gentle creatures they are. However, most of our horses come from cruel conditions and severe neglect, with visible bones and overgrown hooves. Equine Team Manager Cornelius Nash goes into what the process for rehabilitating such large animals looks like and how we prepare them for adoption.
Tune in to this episode of Great Day Houston for an in-depth look at the work we are privileged to do every day and learn more about how to open your home to a new pet or animal in need!
The Houston SPCA is a 501 (c) (3) non-profit that operates solely on donations. We are not affiliated with any other animal welfare organization, locally or nationally.