Sharky, a young Catahoula mix puppy, was discovered in a north Houston parking lot in October 2022 near the Gulf Freeway and West Road by a Good Samaritan who brought him to Houston SPCA's campus. Our staff was astounded at the intensity of his injury. He had an embedded elastic wrapped tight around his muzzle, causing severe swelling and cutting down to the bone.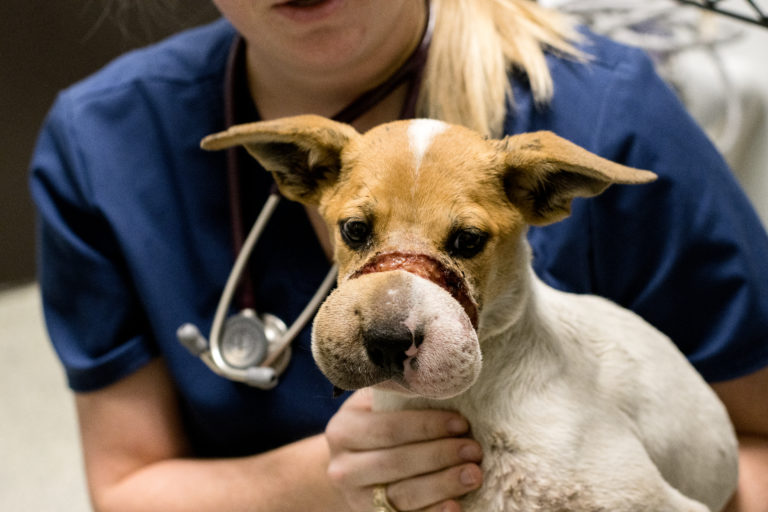 It became apparent that the goal had been to stop him from biting because, in typical herding puppy fashion, Sharky playfully nipped his caretakers often and earned himself his new name! It goes without saying that the proper way to train a puppy on bite inhibition is not to muzzle him with a tight elastic. With some time training in his foster home and another dog to show him the way, Sharky made lots of improvement in his training journey.
After his harrowing ordeal, long surgery, foster home experience, and then arrival at our Adoption Center, Sharky was ready for the next step. His new dad, Kevin, saw him waiting in his suite and wondered what this little guy's story was. The little cattle dog who was tracking his every move was intriguing. After some time getting to know each other, Kevin knew where Sharky belonged.
"We were looking at a couple of different puppies and I saw this dog perked up, looking," Kevin told Houston SPCA. "He's tracking me! I want to see who this is. We played with him for a little bit, and they told us the story about him. I looked up the stories and thought, that's the next phase for us, we're going to start over with him."
Help more pets like Creasy by becoming a MONTHLY DONOR
It was a match made in heaven. Sharky, now Creasy, has settled into his new home seamlessly. He spends his days popping into his dad's video meetings, going on walks, and accompanying his family on outings around town. He's blossomed into a social and affectionate young dog who comes to Houston SPCA for visits to check up on his old friends!
Creasy and his dad appeared on the special Houston SPCA episode of Great Day Houston to talk about his story and adoption experience. We couldn't have asked for a better outcome for this sweet puppy.
You can be the hero in your own adoption story by adopting your new best friend from Houston SPCA! View all of our available pets here.